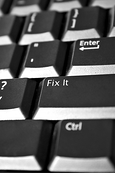 We here at Evenstar often get asked by companies about how they can improve the performance of their business blogging. Although they do have blogs, they find the results underwhelming: the volume of website traffic is lower than desired, and they generate little to no buzz through blog subscriptions, RSS feeds, or on social media.
When we look at their blogs we find we find ourselves giving the same feedback on the same six mistakes over and over again. Here are the top six comments that we make to companies that ask us to examine their blogs:
1. Making your articles too short will end up frustrating your readers
The body of most posts we review are usually informative, but some of them are too short (one or two paragraphs). Companies sometimes make the mistake of cutting one blog post into two separate posts because they are afraid they won't have enough articles to post consistently. Don't leave your readers hanging! If you have have short two-part blogs it is better to combine them into one. There is nothing more frustrating than reading an article that is incomplete or doesn't make sense. That will make your readers run from your website. If you want more ideas on how to keep generating blog content ideas, look at this article here.
2. Create unique blog titles to avoid confusing your readers and search engines!
We often see blog posts on the same site with very similar (or the same) titles. Search engines get confused if they see repetitive titles, which hampers their ability to distinguish between them; this adversely impacts the amount of inbound traffic your site will get. Worse, your readers may get confused and frustrated because they may land on topics that are not of interest to them and they will leave.
3. Write blog articles that reflect what is important to your readers
We think we see potential in every one of the articles that we are asked to look at for other companies, but they are often not directed specifically to a question or problem someone in their target audience (potential customer) might be asking. Your blog posts must be focused to what your reader wants to read. How do you do this? Think of the questions customers and prospective customers ask you: those questions will tell you what is important to your readers. Base your blogging on that.
4. Use outbound links to direct your readers to other remarkable content related to your topic
Some companies put a bibliography or "related articles" at the bottom of each of their posts. Although this may be helpful to your readers, this practice doesn't help you get more credibility from search engines or your readers. Consider hyperlinking those resources in the body of the articles, instead. If you make reference to something related to one of those resources, a hyperlink is a great way to get additional credibility with your readers and with search engines via these outbound links. This is what is important in today's SEO world: that is, delighting your audience with remarkable content - yours and others'.
5. Pictures are worth a thousand words!
Adding pictures in your posts and hyperlinking them back to other relevant or related blog posts or website pages are great ways of further engaging your readers. Keeping your audience engaged on your website with great visuals will increase their self-education and knowledge about your organization. Once you start that engagement, it is much easier to get them to come back and participate further in your cause.
6. Add a call to action button at the bottom of each post
Offer your readers other content to keep them coming back to you. The easiest one to start with is "Subscribe to Our Blog". If you don't have the ability for people to subscribe to your blog or follow you via RSS feed or through social media, then make it a priority to add this top of the funnel offer. It is absolutely crucial.
Recently, I came across a couple of business blogs that seem to do it right: http://www.wellspringcmo.com/blog and http://www.riverpoolsandspas.com/blog/. These two blogs do a great job of targeting their articles to what their readers want to know.
Blogging is a great way of engaging with your readers and beginning the process of creating followers, leads and new customers. It is also a great way to keep up the communication with your current customers. They want to know what your business is all about and get more insight into who you are and what your philosophies are all about. This is how your customers or potential customers will decide whether they want to work with you more. Blogging can help you with that in an easy and straightforward way.